By Christabelle… @CBellesCloset (*Pure Editorial, Non-Paid Post) 
It is the gift you can NEVER go wrong with…no NOT fruit cake! Light the fire of your favorite hostess, secret crush, colleague or best friend with these SEXY and SCRUMPTIOUS candle picks!
7 Sexy Candles for Gift Giving (no gift receipt needed)
1. Healing Candles by Thomas John, $34 – OUR TOP LOVE OF THE SEASON!
An exclusive line of soy candles created by Celebrity Psychic Thomas John to help cleanse the mind and spirit and restore balance through the senses. Each candle is infused with essential oils that Thomas John uses in his own practice as a psychic medium and energy healer to produce soothing aromas that help center the soul.
Healing Candles by Thomas John are hand poured using only clean burning 100% soy wax, lead-free hemp wicks, botanical fragrances and essential oils that provide approximately 45 hours of fragrance.
A percentage of the proceeds will be donated to: CMomA, Embracing Children in Need – www.cmoma.org
Lemongrass Lavender:  Light this candle before bedtime to clear unwanted energy from your personal space or aura, during the day to boost stamina and energy, or at any time you seek clarity about your intent or purpose.
2. Fornasetti Silenzio Candle, SRP $165
A scented, hand-poured candle in a lidded ceramic container that features the face of Lina Cavalieri Fornasetti's iconic muse.
3. The Sitota Collection Petite Excursion Candle Quartet , SRP $55
BLUE NILE: embraces earthy rich bamboo with wild grasses, bergamot, red grapefruit, and jasmine. AIGYPTOS: Sultry and seductive base notes of amber, sandalwood, musk and vanilla are smoothed out and balanced by jasmine, lavender and orange. HAVANA: A masculine masterpiece highlighting tobacco, leather, amber and musk. Notes of teakwood, pepper and black tea add boldness. COCO NOIR:Perfectly combines creamy coconut with tantalizing cassis enabling natural exotic blends to effortlessly calm and relax your spirit.
Burn Time: Approx. 18 hours each; wax Family: Soy Blend;  2.5″ tall x 2.13″ diameter
4. Votivo Aromatic Candle Black Ginger, SRP $26
Black Ginger: A seductive fragrance of time-worn leather and sweet mulled spices brewed over an open flame, the aroma of tropical ginger comes as an invigorating surprise ass he strolls thru the late summer wildflowers on
her way to her lifelong destiny.
5. bella j. Sugar Rush Candle, SRP $24.99
bella j. is a cool collection of colorful and delicious smelling candles with a chic accessory inside the wax. As the candle burns, a secret piece of collectible jewelry is revealed, making these innovative candles the perfect double treat! Gorgeous gold, silver, gemstone, and real diamond charms on bracelets or necklaces are just waiting to be discovered and collected.  Each one is stylish and some are worth up to $1,000! A few lucky customers will win an extraordinary jewel worth up to $10,000!
Sugar Rush: A sweet mix of brown sugar, vanilla and freshly baked cookies. FRAGRANCE NOTES: A classic French Vanilla scented candle the rich fragrance of creamy vanilla with subtle hints of pure white sugar and undertones of warm caramel. Each candle contains 10.5 oz of soy paraffin wax poured in California. Each candle provides between 60-65 hours of sweet enjoyment.
6. Ms. Betty's Original Bad-Ass Candles – You're F'N Awesome, Just Like Me, SRP, $18.00 
Another fabulous find on my favorite website Etsy! This candle comes in a bevy of scents, but the sassy mix of  Citrus and Chili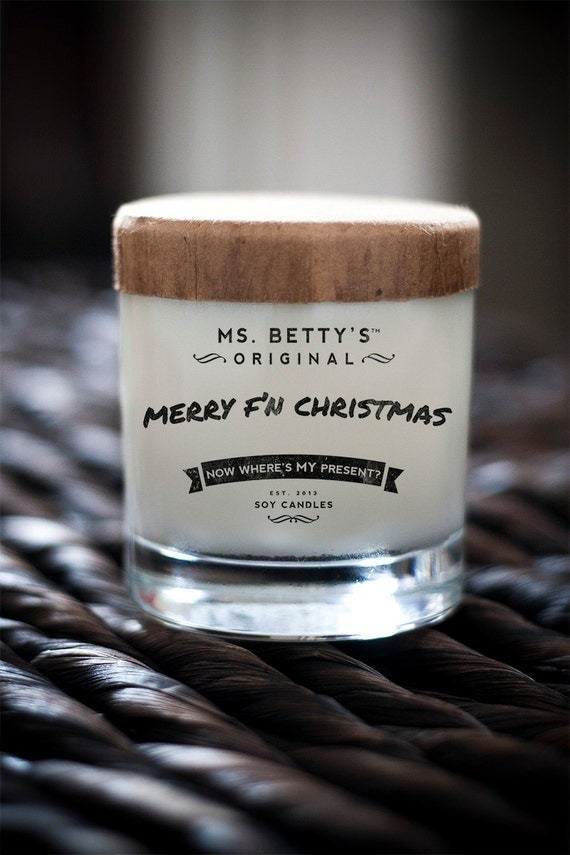 Pepper is just, well, BAD ASS. Handmade in Virgina. Made from: badass bitches, soy, wax, glass, recycled paper, cotton wick, awesomeness
7. R.Nichols Candles – GLOW, SRP $45
Winter calling!!! The warm scent of burning embers & crackling fire.  Instant mountain cabin.
The candle jar is sturdy glass wrapped in a vibrant fired-on decal which allows the glow of the flame to accentuate the clever graphic designs. Premium paraffin and soy blend. 4″    diameter: 3 1/8″; burn time: 60 hours (Featured as one of Oprah's Fave Things!)
Comon' baby…light MY fire (and send me some candles for Christmas!!)