FOR YOUR BALM LOVING FRIEND by Christabelle
Ahhhh those were the days…sexy screen sirens like Mae West and Betty Grabel posed as the ultimate pin-up girls for the world to admire. You don't have to jump in your time machine to get the look of these ladies, all you need to do is pat a little Pin Up Balms to your smacker to celebrate your inner bombshell!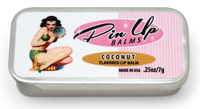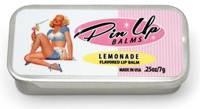 These pocket sized retro balms are flirty sexy and oh-so fun! They came housed in a sliding tin container (reminiscent of a balm I had when I was a little girl) that is perfectly portable in the tiniest of trend setting clutches. 100% all natural ingredients – Pin Up Balms come in 40 – count 'em – 40 flavors ranging from Raspberry Rapture, and The Boys Love Coconut – to – Mocha Loca Chocolate and Love that Lemonade. One more delicious than the next. And each tin is adorned with old-fashioned pin-up girls that is sure to be a conversation piece.
Priced at a mere $4.00 per balm, these luscious lip smackers are affordable to anyone – even on an allowance! Check them out for yourself at www.PinUpBalm.com