By Christabelle…
If you know me personally, you know if there is music on, I am singing…every last wrong word, perhaps a little off pitch, but always enthusiastically! Bring out your inner "American Idol" by playing your tunes through this conversation starting iPod docking station…shaped like a Hog. Yes, a hog…gotta love it!
Speakal, a lifestyle-oriented home entertainment company with intelligently designed technology solutions driven by a passion for sound, launched today iHog, the stylish hog-shaped iPod/iPhone docking station speaker system.  Available in pink and white, the booming iHog speaker system makes a fun holiday gift for kids, teens and adults that love music.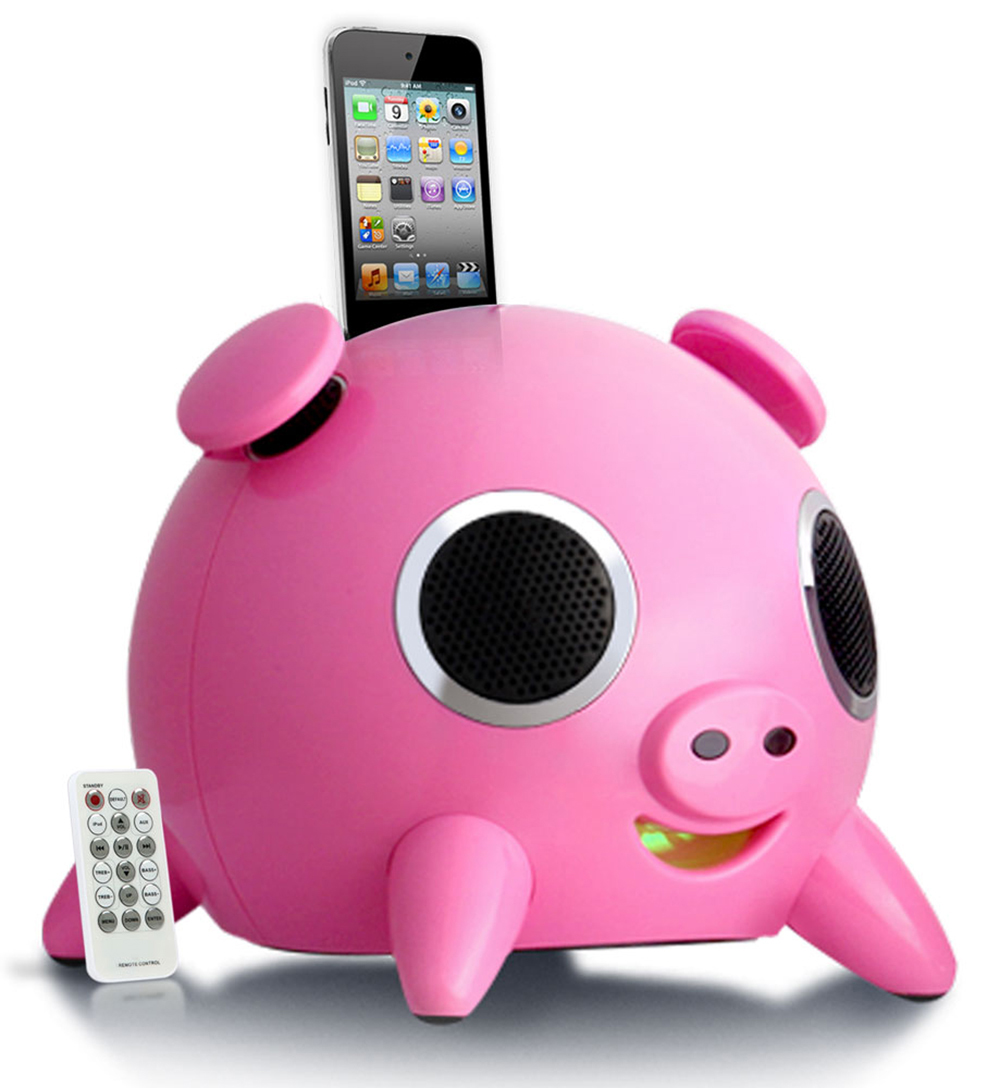 Your Portable Music Companion – Up to 10 Hours Rechargeable Battery Life
Lightweight at around 4 lbs, the iHog is the best and most powerful portable outdoor speaker, providing up to 10 hours of lithium rechargeable battery life that also charges your iPod.  Its universal cradle lets you play all your iPhones and iPods (including iOS4, iPhone 3 and iPhone 4) outdoors or indoors with 4 high-quality speakers delivering 360 degrees of sound with 2 tweeters, 2 sound diffusers and a downring 20 Watt subwoofer, a super amplification stereo system and optimized airflow, with frequencies from 50Hz-20KHz for a total output of 28+ Watts that fills up a room with sound.
Features Fun Controls:  Just Push the Hog's Ears to Adjust Volume
Based on Speakal's best-selling iPig docking station, the iHog is more powerful and portable, with a battery-operated docking station that features easy-touch Humanized Touch Volume Controls to adjust the iPod's navigation with a light touch of the hand.  Just push the hog's ears to turn the volume up or down, or its head to skip tracks, pause, or stop or use the included remote to adjust the controls from a distance.  In addition, the iHog also lets you add drama to your movies or gaming — just connect iHog to a TV, gaming console, or other music source with the included 3.5mm to amplify sound with its super amplification system.
iHog Features:
iPod Docking Station compatible with all dock connector iPods and iPhones.
2.1 Stereo Speaker System.
Humanized Touch Volume Control and iPod music navigation.
Lithium rechargeable battery for up to 10 hours of battery life.
Remote control.
Adjustable Bass and Treble.
4 Speakers positioned for maximum sound separation and distribution with tweeters and midrange.
20W Subwoofer.
Total output of 28+ Watts.
Shape designed to deliver 360 degrees of sound.
Airflow optimized design for consistent sound performance.
Bass Reflex Technology.
3.5mm AUX input jack to connect to TV, gaming consoles, or other music sources.
Manufacturer's Warranty.