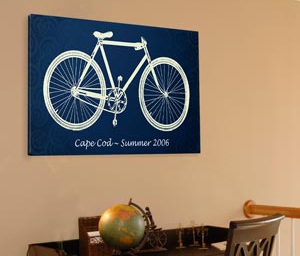 FOR THE "THEY-HAVE-EVERYTHING-ON-THE-PLANET" FRIEND…By Christabelle
Turn your snapshots into artwork by giving the gift of Pop Art! Tuck a custom made gift under the tree this year – something UNIQUE – with the help of our friends at AllPopArt.com – where you can make art out of your very own life.
Whether it is a new baby in the family – a wedding – a new pet – or even a family reunion portrait, you will sprint to the top of Santa's "Good List" when you gift these thoughtful, colorful and heartwarming gifts this holiday season. Who doesn't want to see themselves imortalized in such a creative way?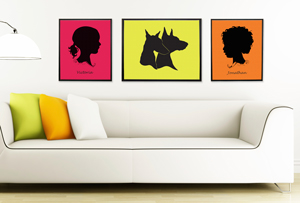 With a varirty of styles to choose from – Silhouette (which was given kudos by Elle Decor, The Today Show and Oprah Magazine!) to geometric style, retro-pop and my personal favorite, Warhol Style – you can cross everyone off your holiday list with AllPopArt.com!
Desperately in search for a novel, "WOW" gift for my Phil, I chatted with Ana over at all PopArt and she helped to guide me in a clear, informative and exceptionally kind way. I couldn't believe how easy it was to design a beautiful piece of artwork for the man who seemingly owns EVERYTHING. I felt a little like Picasso as I chose different, sizes and frames…always with a helping hand from Ana. And OH what arrived on my doorstep just a short time later…!!
With the help of the amazingly talented team at allPopArt.com, I created a one-of-a-kind Gibson Les Paul Anniversary Edition guitar photo into the perfect (and affordable) Warhol style gift for my guitar loving man! Thank you all PopArt – this is truly an unparalleled gift idea. One that offers thought, creativity and a that pop of "WOW" that will exude "ooohhhhs and aaaahhhs" from everyone in your circle.
Get your creative juices flowing and order some of these wonderful gifts for the ones you love – and let them know Christabelle sent you…http://www.allpopart.com