For your White House Bound Pop…by Christabelle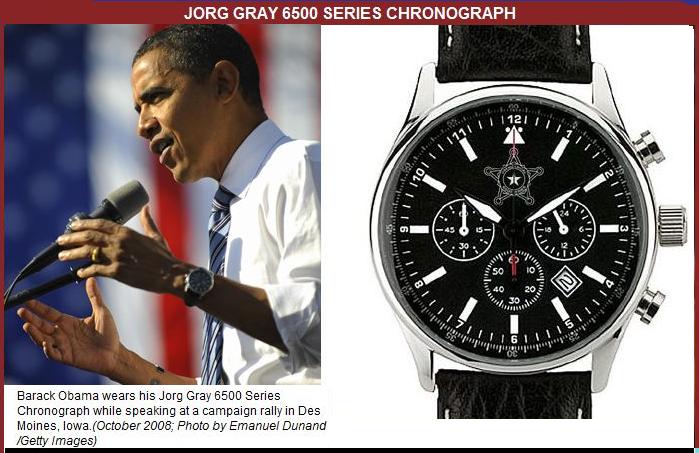 Do you think your dad would be the greatest President to run this country? Me too. But before you step onto your soap box and start campaigning for the 2012 election…check THIS out first – the ULTIMATE gift for dad this year. The Jorg Gray 6500, the watch worn by President Obama himself! That might be as close you get to the white house (at least in time for Father's Day).
Obama received the Jorg Gray 6500 watch as a gift from his Secret Service detail on his 46th birthday, and hasn't taken it off since.  He has been photographed wearing the watch on such historic occasions as his presidential election victory speech, the inaugural swearing-in ceremony and inaugural balls, and the signing of his first Presidential Proclamation.  To memorialize the historic inauguration of Barack Obama as the 44th President of the United States, Jorg Gray created a commemorative edition of the watch
This sophisticated time piece has fast become a highly sought after and valuable collector's item. With its sleek design, luxurious fit and feel – it is no wonder the President has chosen the Jorg Gray 6500 as his timepiece of choice. And now your father can wear the exact one!
The Jorg Gray JG6500 watch is case cut from solid steel and features a matte black dial, Italian buffalo leather strap, high precision Japanese chronograph movement, scratch-resistant mineral crystal, date display, and is water resistant to 100 meters. Each commemorative Edition watch comes with the following inscriptions laser engraved on the back case and an individual serial number "The 44th President of the United States –  Barack H. Obama – January 20th 2009 – Commemorative Edition".
This is a gift for dad will be one he appreciates for decades to come and one that will hold a historic and sentimental place in his heart forever.  Available at JorgGray.com in silver $325 (shown in photos) and rose gold $395.