Get healthy by eating the one thing that made you gain freshman 15 in college? Correct! Or so the 'Taco Scientists' say…how do I get that job?
The Taco Cleanse is a Real Thing – Get me to the Border STAT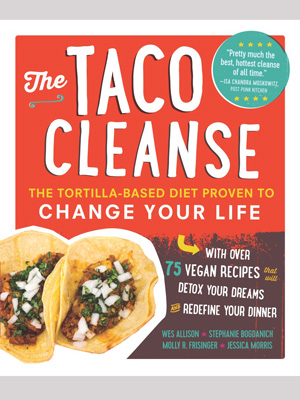 With a new year, there is a new wave of ways to get healthy and lose weight. And what better way to do both than with TACOS. The lastest fad diet has hit shelves this year and it speaks to the masses in terms of making us believe we can have our cake and eat it to (but in this case, it is tacos…not cake).
Thanks to the authors of the new book The Taco Cleanse, Wes Allison, Stephanie Bogdanich, Molly R. Frisinger and Jessica Morris developed the book after eating tacos for breakfast, lunch and dinner for 30 days straight—and are encouraging others to do the same.
From People.com:
The scientists provide all the necessities for following a taco-based lifestyle including five recipes for tortillas (there's a waffle version!), over 35 vegan recipes for fillings and all the fixings to compliment them.
While the detox plan doesn't promise weight loss, there are plenty of other benefits.
"A taco consumed within three hours of waking, colloquially called a 'breakfast taco,' has been anecdotally proven to erase the ill effects of the previous night's toxic indulgence. A midday taco frequently results in more positive physical effects," reads the book. "The spicy taco consumed prior to sleep stimulates the nocturnal imagination and has been used by taco spiritualists to induce prophetic dreams."
The taco cleanse might not work for you…but it might be the most fun you have had while trying to get healthy (besides the Snickers cleanse – which DOES NOT WORK).
Are you buying this?! We know he is…
Image Credits: Pinterest, Amazon.com / Source: People.com
At times product samples/gratis are sent for review, color matching and/or photography purposes
Any sponsored or paid content will be marked as such at the start of the article.