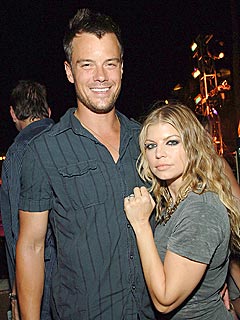 The UBER HOT couple made it official this weekend! They got officially hitched…
From People.com:
In a white fantasy wedding, Fergie and Josh Duhamel were married Saturday under magnolia trees filled with thousands of white roses, PEOPLE confirms.
The Black Eyed Peas singer, 33, wearing a Dolce & Gabbana gown, and the actor, 36, tied the knot at the Church Estates Vineyards in Malibu.
Fergie carried a bouquet of white flowers studded with crystals as the couple exchanged H. Stern rings engraved with personal messages. Ten bridesmaids were dressed in contrasting black.
Fergie's specially-designed engagement ring featured a 4-carat brilliant cut diamond set amid other diamonds. A narrowed diamond wedding band completed the set. Duhamel's ring was made of white gold with a brushed finish.
The ceremony was followed by a reception in a tent decorated as a forest of trees, with the ceiling covered in lights.
To read the rest of the story…click HERE
CONGRATS FERGIE AND JOSH!